Benchmark scientists have extensive experience conducting biological sampling for tissue analysis and ecological surveys. Depending on the target species and goals for the individual study, one of a number of methods may be employed to collect samples.
Tissue Sample Methods Employed Include:
Electroshock
Dip nets
Gill nets
Barrel traps
Mussel rakes
Cast nets
Oyster dredge
Crab pots
Live traps
Rod and reel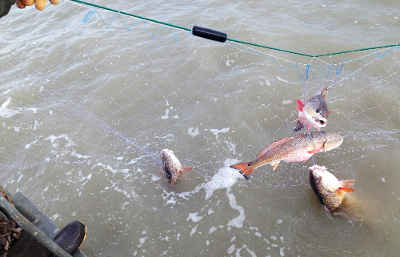 Sample Species Collected Include:
Gulf Killifish
Red drum
Black drum
Flounder
Hard head catfish
Gafftop sail catfish
Channel catfish
Largemouth Bass
Common Rangia
Oysters
Striped Mullet
Silversides
Polychaetes
Spotted seatrout
Sand trout
Blue catfish
Fiddler crabs
Crawfish
Dragonfly nymph
Gambusia
Periwinkle snail
Grass shrimp
Bufo spp.
Eastern Coachwhip
Hyla spp.
Acris spp.
---
More Environmental Sampling Services